Encounters International Sixth Annual Open House.
True to a tradition established half a decade ago once again EI opens its doors and invites everybody who belongs, who does not belong yet and even those who will never belong to EI community of Russian American couples. Everybody is welcome at
EI Open House
February 13, 1999 from 5 to 8 PM
in Bethesda, Maryland
If you were wondering about EI socials like E I Saturday Club and other activities arranged for EI members only , this is your chance to participate in them and get your first hand experience.
We have had three Saturday Club socials only in 1998. The results are speaking for themselves.
The first Saturday Club get-together (in September)
resulted in one engagement. James and Natalia are
married now and attend every social as a couple ever since.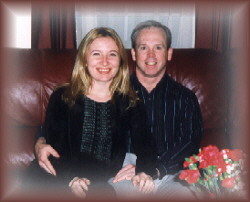 The second social in October resulted in the second engagement. I made an announcement about Ekaterina Babintseva's relocation from Moscow to New York for her internship with the real estate company on EICX board. As bright and beautiful as she is, only two men asked for her phone number. One of them, Steve Milnes is engaged to her and plans to attend the Open house as a married man with his Russian wife. He joined EI when attending the first Saturday Club social. He told me about his and Ekaterina's plans to get married one month later. Having congratulated him first I felt a little sorry because he wouldn't take advantage of all the benefits EI membership has to offer like getting "unsolicited" letters from all those women who would choose him over other men, going on an inexpensive tour of Moscow or Kiev or both --"the best vocation in one's life" -- to meet those women, spending hours on the telephone with me trying to draw the best dating strategy when in Moscow or Kiev... But then again, there will be a trip to Russia in the future for him -- in a different capacity though. How can you skip a trip to Russian if your wife is Russian!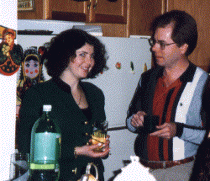 The third social in December resulted .... I don't know yet. One thing I know is that the word of mouth is spreading around; more and more Russian (and even American) women ask me about this opportunity to meet single men. On my part I do not spare words of praise describing our clients as a distinguished and elite group of established men who can offer a lot to the right woman and who know what they want and how to get it. Since I believe in what I say, women who listen to me believe this too. Their number in the service is growing, although we apply the same high standards to the Russian women living in the USA as we apply to the women who are screened and accepted in Moscow or Kiev. So the chances of EI clients to be married to a Russian woman without going to Russia first go up with EI. As for non-members, you too can have this experience once a year, at EI Open House. As usual all the engaged and married couples will get invitations, as well as all single women - EI female clients for the first time will get personal invitations to attend the event. For the rest of the people interested in attending EI Open House no reservation is required. Please do call though, if you want to set an appointment with me. EI will be open on Sunday for interviews with out of state clients.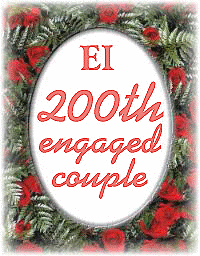 Encounters International Open House events have a long history. With introduction of Internet it became possible to document it. Each Open House has its theme. Open House '97 had an educational theme. Couples and single women were sharing their experience in front of the listening audience of prospective clients. Open House '98 featured a wedding of one of EI couples. It was an unforgettable event for the wedded couple and for the guests. Lots of presents, flowers and hopes... and a lot of commotion when time came to catch a bridal bouquet.
EI Open House '99 will feature 200th engagement. As of this writing EI statistics record states total of 198 engaged and married couples. Who is going to be the 200th engaged-to-be-married couple? Four EI clients have a good chance to have their photos placed in this frame. Two of them -- one is from Washington, DC and the other is from Pennsylvania -- have just left for Moscow and had been already met at Sheremetyevo airport by the women of their first choice. The third candidate is from Canada. He is leaving for Kiev in a couple of days; and the fourth one is from California. The woman he is going to meet is waiting for him in Kiev too. I have little doubt that any of them will come back "empty handed". Nevertheless, I secretly keep my fingers crossed for our Canadian client. Although there are a few other Canadians who are members of Encounters International, Craig is one of the most enthusiastic about the whole process and I hope he will be the first one who will pave the road for establishing EI couples community in Canada. Craig, I hope you will be able to fly to EI Open House after your return from Kiev (even if you do not make a 200th engaged couple.) In the mean time I am trying to figure out how to change the map of the places where EI couples live in order to include Canada. But I won't do anything until you come back. Like all Russian women I am a little superstitious...
Also, by popular demand we are going to continue presenting the musical talents of Encounters International community. This Open House will start with the tunes of Moscow nights turning into America the beautiful performed by Inna Blackwelder who is married to one of our clients in Bethesda and became a great music teacher for both Inna and I. Anybody who wants to participate in our concert please contact me. And please do not be shy about your musical abilities.
And on the final note I would like to mention that January Saturday Club social is going to be held as usual from 12 to 5 PM. We will welcome a few women - newcomers to the Club. More announcements will be posted on EICX.