Encounters International's Marriage Statistics
Encounters International began in July 1993. Close to two hundred American men and Russian women have met through us, fallen in love, married, and have had children. Here are our latest marriage statistics as of November 1, 2007.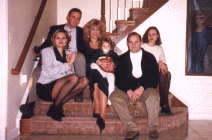 Encounters International has always been regarded as a big and growing family with its weddings, reunions, monthly parties and special events. We are always happy to welcome new members to our EI extended family.
Places where our couples live.
"When a man joins Encounters International he is joining a club. Clubs just like the Rotary or any fraternal organization. You receive access to a network just like a Harvard graduate. And just like that Harvard graduate you will be successful in you quest. At EI you will not only meet a physically beautiful lady but one that is perfect for you. They make your chances go up for a happy and successful life astronomically." Frank Hardy


:
Number of marriages (to date): 280
includingMarriages to "local" Russian women living in the USA: 29

Number of engaged couples
waiting to be married soon: 12
Number of babies born (to date):


Number of divorces (to date): 45 including:
Number of remarriages to a Russian woman after a divorce (to date): 8