Jeff and Natasha F from KY
(married July 5, 1998)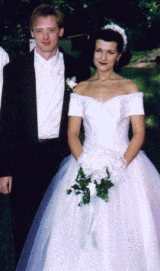 Dear Ms. Spivack,
I would like to express my deep gratitude for your big creative and so necessary work. Because of you many people find their soulmates despite of the territorial distance.
A dedicated knowledgable and sensitive team of professionals work in you Kiev branch. They give all of themselves to this work. They do not have holidays or days off. They work in order for our Ukrainian girls and American guys find each other and make happy families.
I support wholeheartedly your work. My daughter Natasha and Jeff Foster made a wonderful, happy couple. Jeff is a wonderful man. He is very caring and generous. They really love each other. I am happy together with my children. I want to say "thank you very much" to Ludmila, Vladimir and Renata for their support and their role in matching the couples, for their desire to make people happy.
With deep respect,
Natasha Petrik's mother.