Russian ladies-EI members
in conjunction with "Wear a Hat" Theater of Greater Washington
present
Hat Fashion Show
Saturday, March 31, 2012 at 6:30 PM
at 4244 Blagden Ave. NW, Washington, DC 20011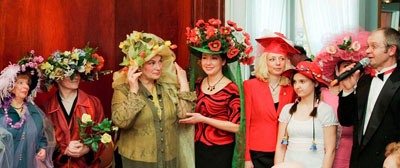 Ladies, this event is designed just for you! It will be a new and fun way for our members to get to know each of you.   Please arrive early so you have adequate time to pick out the best hat for you out of a collection of over 100 designs. You will then model your hat in front of our eager male audience with music that corresponds to your new image.
Encounters International is happy to welcome "Wear a Hat" Theater and its Coordinator Luda Clark at our social. The Theater is proud of their many performances, some of them, like Casanova's Dream, fit the theme, the spirit and the essence of EI and its socials.
So, every lady, who wants to participate in modeling at our Hat Show should contact me and include her name in the list of participants. After the show men can purchase a hat that they liked for their sweethearts.
While we have had the events like a Makeover Party in the past, Hat Fashion Show is a new and a fun way to introduce members to each other and make it easy to interact.
All members and Get to Know Us Members are welcome!
The party is free of charge. Snacks, wine and soft drinks are provided. Please bring more wine, beer and food to share.
Attire is festive, not casual.
More details will be posted on EI facebook (www.facebook.com/EncountersInternational )and sent to your direct e-mail address together with your personal invitation to attend this party.
February 24, 2012 EI attended Fiddler on the Roof at the Riverside Dinner Theater
(complimentary tickets were provided by Rollin Wehman, an Executive Manager of the Theater and EI's dear friend and client)
Slide show from Feb.. 24 Social in the Dinner Theater.
The words from the famous musical "Matchmaker, Matchmaker, make me a match, find me a find, catch me a catch... " are dear to any single woman's ears and heart.. especially here, in the matchmaking service of Encounters International.
The plot of this famous musical is very much in tune with EI's matchmaking mission, but  the plot alone did not made this emotionally charged play so strikingly remarkable and fantastic.  Ben G. a guest from NY said that he had seen this musical at least 7 times elsewhere, including Broadway, but this local theater's performance was simply THE best. No wonder, that Jim Lawson, who played the main character in the musical, spoke with us with a heavy "Jewish-Russian" accent, when we approached him on the stage after the performance. I guess, he kept living the life of his character even after the curtain went down. It was a remarkable and memorable performance, indeed.
On behalf of our EI family of clients I want to thank Rollin Wehman for the unforgettable evening!