Splash into the Summer
Memorial Weekend Saturday Swimming Pool Party
Saturday, May 28, 2011 from 4:30 to 9 PM
Woodley Gardens Swimming Center
850 Nelson Street, Rockville, MD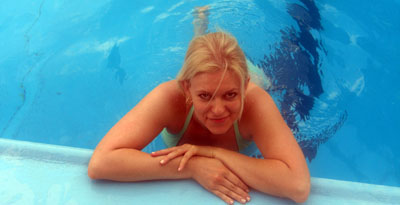 I's time to give summer a push with our Memorial Day Weekend Social with cookout and Swimming Pool Party on Saturday, May 28. Everybody knows that it is a good old tradition in the Encounters International community to open the swimming pool season with this fun party at Woodley Gardens Swimming Center.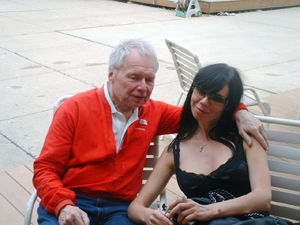 This tradition goes back to one of EI's clients, John Bell, a Rockville legendary attorney and the most eligible bachelor at that time, who threw the very first party for his EI fellow members in his pool in 1999. Many years have passed since then, John got married (picture with his wife on the left) and has a Ukrainian family that is so extended that includes a Ukrainian cat. This tradition remains alive today and we are thankful to John for starting it.
Please don't forget to bring your swimming suites and towels, picnic baskets with food and drinks, basketball, volleyball, badminton stuff and your favorite music for all to enjoy.
If you haven't attended any of our swimming pool socials, here are the links to some of the slide shows taken in previous years 2010 , 2009, 2007
Calling all EI clients Get to Know Us members, EI couples, children and grand parents. Do not miss this Splash into Summer event. Oh, yes, John Bell is going to attend too!
No reservation is necessary. Just come and enjoy. Swimming pool parties are traditionally the most popular and well attended parties of the year always resulting in life long matches.
That beautiful Russian woman in bikini is waiting for you!