Valentine's Day Party: Bring Your Heart and Share It
Saturday, February 19, 2011 from 8 PM to 12 midnight
Alto Plaza Restaurant - third floor
4500 Old Centerville Rd. Centerville, VA 20121
Cover charge is $10.00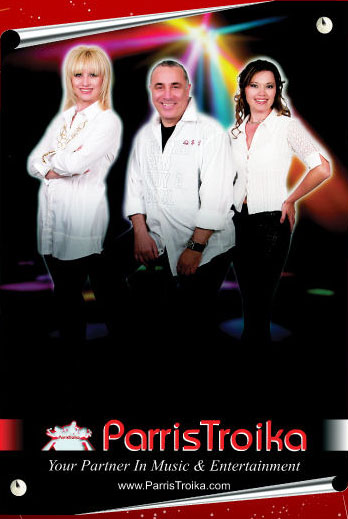 Encounters International clients and couples are invited to join Alex Parris and his group ParrisTroika for the most enchanting evening of dancing and entertainment in the new stylish Alto Plaza Restaurant located in Centerville, VA, in the area of the Korean Spa, that all the Russians in the Greater Washington area have come to appreciate and enjoy.

You may remember hearing Alex and Olga at EI's Housewarming party last January to christen our Headquarters in DC. If you missed ParrisTroika once, don't miss them this time! It promises to be an unforgettable night of dancing and romancing at Alto Plaza in Centerville. Join others in the Russian-American community of Greater Washington for an evening of love and share your heart with someone special!

As always, all EI members, couples and Get-To-Know-Us members are welcome. Come ready to meet YOUR Russian Valentine!
Slide Show of EI Stoli Doli Party in January
In keeping with the tradition of Russian parties in Russia, the Stoli Doli party was the longest social that I remember. We stayed up almost until 2 am. The home atmosphere combined with libations of stoli doli and wine lead to opening the hearts and minds to each other followed by fun time that only happens, when you put together Russians and Americans in the same room.

Elza R. was the soul of the musical part of the party. She invented a new game. We, Russian women, were singing our popular songs from the Soviet era and Americans were supposed to guess what this song was about. There were a lot of guessing, good humor and laughter. Yet, the only answer was right when we sang a Russian love song. Another proof that love does not need translation and is understood in all the languages.