Memorial Day Swimming Pool and Barbecue Party
at Woodley Gardens Swimming Center in Rockville, MD
Saturday, May 26, 2007 from 5:30 pm to 9 pm
This year we continue the tradition of having our famous Woodley Gardens Swimming Pool Party on Saturday of the Memorial Weekend. This tradition goes back to the end of the last century when John Bell, still a single client of Encounters International at that time, invited his fellow EI members and the ladies for the day of fun in his pool. The party was such a success that now it is hard to imagine EI socials without at least one or two Swimming Pool parties during the summertime.
Our Swimming Pool parties are responsible for many matches over the years. Children of these matches enjoy socializing between themselves sometimes even more than their parents. I never know what language to use when talking with these kids and always get surprised that it does not matter, since they are fluent in both Russian and English.
EI Swimming Pool parties are famous for their barbecue and home made food that is typically prepared by our Russian babushkas. It is not unusual to see a home-made marinated herring or a famous eggplant "caviar" at the picnic table. As usual, we'll have two big grills for you to cook to your heart's desire as well.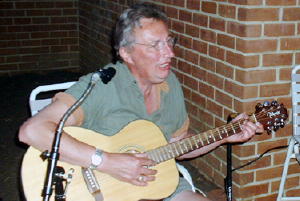 Last year James Bocharov, a guitar player and a singer, entertained us with both Russian and American songs. This year he wants to start a new tradition of having live music at every EI Memorial Day Swimming Pool party. I welcome this tradition and welcome James to sing for us at the upcoming social.
There is no entrance fee to attend. You don't need to RSVP. All you need is to be an EI member or couple, or a Get to Know us member.
Address: 850 Nelson Street, Rockville, MD
Telephone: 301-340-1012
I am looking forward to seeing you all!