EI Springtime Party hosted by Oliver and Irina Beal
March 31, 2007 at 7:00 PM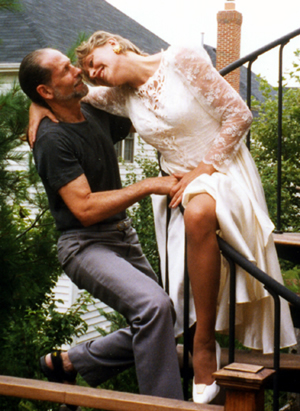 Oliver and Irina Beal became Encounters International 'poster' couple. That is not only because their wedding photograph is displayed on EI home page, but because Oliver and Irena are a unique couple. In my future 'Guiness' Book of Encounters International records that I have been wanting to write for a some time now, the Beals family will break more than one record.
Married almost 9 years ago, on July 29, 1998 the Beals family was featured in EI Handbook as the couple whose love does not know age difference. Indeed almost 30 years apart they seemed to be genuanly in love with each other while setting the record for age difference. Of course, skeptics and radical feminists never believed that this couple had a chance of survival beyond a two year marriage annyversary. Life proved them wrong. Not only Oliver and Irina are ready to celebrate their 10th annyvesary next year, but they are as much in love with each other as they used to be during their honey moon.
I was happy to know that Oliver and Irina offered to host our March Saturday Club party. Please come and join us for a dance-on-a-deck and barbeque social. If the weather cooperates, this will be our first outdoors party, while we'll enjoy plenty of room inside should it rains or gets cold.
I am looking forward to seeing all of you there!
Spring Party Slide Show
Address: 2005 Border Dr
Fort Washington, MD 20744
Telephone: 301-567-4488