| | |
| --- | --- |
| | What's New |

What's New Archive

*
*
*
*
*
*
*
*
*
*
*
*
*
*
*
*
*
*
*
*
*
*
Party Update
While I am collecting and processing numerous photos that had been taken during the party to display them here and while I am processing all the photos and the profiles of the new ladies that joined EI before the party I want to welcome you to join me in sharing your after-party thoughts and ideas on EI message board/Forum here
Please let us know your thoughts.
All-Day Private Beach Party
Saturday, August 25, 2007
from 12 noon to 11 PM

at Private Beach in Pasadena, Maryland
Party Update
Please note that Sunday, August 19, is the cut off day for RSVP. In other words, we are going to close our reservation list.. As you know, the party is free for all EI members. but we'll have to charge $100 entrance fee if you are not on the reservation list by August 19.

The band will be performing between 4 and 9 PM and we'll have ipod music at all other times. If you have your favorite music and you want to share it with us, you are welcome to bring it and we'll play it.

There will be more than two hundred people at this party. Most of them are single, but many have already found their soul mates. In order to avoid the confusion and save members from flirting with a married man or woman we decided to issue and distribute color name tags or at least wrist bands. RED is for married people, GREEN is for singles and Yellow is for non-EI members of Dave's crew. Judging by comments from previous parties this idea of color coordinated tags will be highly appreciated.

We expect a number of Russian ladies coming from out of state. Dave promised to offer his house on the beach to accommodate these women. That means that the party is likely to continue on Sunday morning. Those men who are making plans to fly to Maryland for the party, please make a note of this and schedule your return flight at a later time on Sunday.

An inexpensive place to stay for the weekend is

Red Roof Inn Washington, DC - BW Parkway

Baltimore Parkway/SR 295 at SR 100 West

7306 Parkway Drive South, Hanover, MD, United States, 21076

Phone: (410) 712-4070 Fax: (410) 712-4078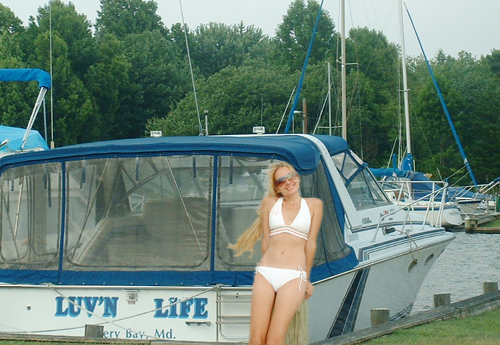 US, AMERICANS, KNOW HOW TO PARTY TOO
SUMMER BASH
Sponsored by David Olszowy, one of EI "Happy Campers"
recently engaged to a Ukrainian Woman of his Dreams.
Come and enjoy! It is EI Clients' Appreciation Day and it is Free for all the single clients and EI couples. Become a part of our Annual Reunion! EI children are welcome!
| | |
| --- | --- |
| | |
A message from Dave, our host:
"Welcome all from near and afar! I have been looking forward to this day for quite some time. I wanted to give all of you an opportunity to have some good safe fun in the sun!. I truly want this to be a memorable day in which people will reflect back with positive memories. Additionally, I want this to be a "real Saturday social" in which people can mingle, get to know other folks and be themselves! Who knows.......you could meet a very nice handsome wonderful person like me?? OK, just having a little fun!
I have some interesting surprises planned and trust me.....you will not be disappointed!
It is my intention to be a good and courteous host. But in return I want you to be good little boys and girls! Respect my boat, the jet skis and the private beach where we are all guests! Let us be good to the environment and make sure we do not throw trash in the water ....I will have plenty of containers for this purpose! Also remember that I will have approximately 40-50 of my family and friends who are not members of this club......let us show them what classy and professional folks are like! This is very important to me!
Some of you know that I love to cook.....yes, we will have some zesty hot salsa! And it appears the jerk chicken was a big hit too! I will also have some home made salads with fresh picked veggies from my garden, Maryland steamed crabs, the normal Summer cook out stuff along with some desserts too. And, I wanted to let you know that I heard the requests of a few and will have some nice vegetarian dishes ! Once again, there will be a few surprises in this area too!
There is one more thing I need your HELP with! Please let Natasha and I know how many children and adults are coming! I must know how much food to prepare, how much booze to buy and all of the other logistics that go with a party of this magnitude! Please make your reservation now... Saturday, August 25 Beach Party RSVP....and make me feel like a extra special Happy Camper!
See all of you soon and pray for good weather!
Dave
Those who are new to our agency please watch a video clip recorded at a similar, but smaller scale party several years ago.
If you don't have Real Video software, please download it for free here:
This time we have prepared an even more exciting, all day program for you.
It is free for all Encounters International members, their spouses and children.
Live Music and Dancing

The band's name is "Knock Off Ned". This band is a Rock and Roll band. However, they are learning a few blues songs for us and they do play some slow music They consist of a drummer, lead guitar, rhythm guitar, bass guitar and a female vocalist.

During intermissions we'll play some of American and Russian favorite songs and dance music on a IPOD.
Limbo Dance Competition

How low can you go ...Dance under pole, lower... lower.....'Doing the Limbo' involves each player dancing around and then moving their body in a way that they can go under a broom handle without touching it or falling onto the floor. The broomstick is held up at varying heights and is slowly lowered after each round. The winner is the last one who can make it under the stick. It seems to me that we need to consume a certain amount of alcohol before we attempt to do it. Learn more here.
Fun in the Sun and the Water

We will have two jet-skis there and we will have some supervised rides for children and adults.

We will have one boat which will have a hook up for an inflatable tube. It is a big one! Everybody knows that bigger is better! I will tell you that in my experiences this is an area where we will need a camera.....guys and girls are always losing their bathing suits on these things!
Games, contests, competitions

American famous Horseshoes game. Russian ladies please follow the link to learn how to play.

Volleyball. Russians do not need to learn how to play it. It is popular both in Russia and the USA

Badminton. It is even more popular in Russia than it is in the USA.
Beach Party All-You-Can-Eat Food Menu

Maryland Blue crabs.

Hot dogs, hamburgers and Italian sausages to grill.

Sushi delivered from the local featured restaurant.

Famous Angels potato and macaroni salads and Cole slaw.

Home made marinated Jerk chicken and beef.

Veggie, cheese and fruit platters for our vegetarian clients; some watermelon for the kids!
Full Open Bar with a Bartender

Two half kegs of beer; Bud and Heineken

A couple of cases of light beer; Michelobe Ultra and/or Bud Light

Gin, Bourbon, Rum, Whiskey

Vodka (a lot of it for you, wild Russians)

Red and White wine

Flavored Brandy

Mixers will include Coke, Diet Coke, Tonic water, Soda water, OJ, Cranberry juice, Seven-up, Ginger Ale, Root beer, Dr. Pepper,Orange and some bottled water.

Russian Authentic Kvas non-alcoholic beverage
Map to Hunters Harbor Beach
Mallard Drive, Pasadena, MD 21122
Dave's cell ph: 410-353-4488
Natasha's cell ph: 301-613-8250
EI Office PH: 301-530-7759

Reminders, Rules & Regulations:

Please bring a bathing suit and a towel or two; sun tan lotion and some "bug spray" for the evening hours.
There is NO lifeguard on duty so swimming is "at your own risk" There is a pier going to the water but during low tide it is only around 4'-0" deep. There is also a ladder on the side so it is easy to get back to the pier
No diving into the water.
The area by the pier has a very sandy bottom. Occasionally you may find a few rocks.
This water way is the Magothy River.......it is the home of some crabs. Most likely during this time of year the crabs will be in deeper and more cool water but if you feel something nibbling on your toe....it might be one of those funny looking crabs!
All of us like the water but let us respect it especially at night time!
No pets.
People who are extremely intoxicated will not be allowed to participate on any of the water escapades.....in the name of safety!
You may want to your video and regular cameras..
Car pooling would be greatly appreciated.
Frisbee's, footballs and basketballs are ok.....there is room for all of these additional activities.
If you feel you are too intoxicated to drive we have options:
we will have some phone numbers for local taxi's.
we will have phone numbers and locations of some local hotels.
I am sure that I could fit some folks at my house that is located in the same area.
Final Point: During the hot weather we must all be cognizant of sunburn, heat exhaustion and heat stroke. We must utilize the buddy system. There will be a first aid kit onsite as well as a certified First Aid person....ME! There is a local fire station just down the road......accidents do happen but hopefully none will happen on this special day!
Party is rain or shine!!!
There will be prizes for the limbo dance, sexiest bikini and.....a mystery surprise!
Do not miss this party! It is going to be one of the largest parties that we have ever had. Those of you who have been planning to attend one of EI socials -- this is the time! I can guarantee you that this social is going to be worth your travel to Maryland.
Of course, there is always a fine print, but please read it: You need to be an EI member or Dave's personal friend or relative to attend.