Celebrate the arrival of the summer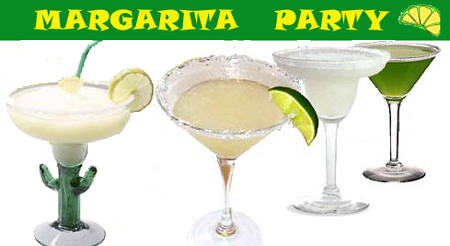 You are invited to Margarita Madness Party
Saturday, June 24, 2006 at 6 PM
9583 Guilford Rd, Columbia, MD 21046.
Tel: 410 905 7725
Summer is finally here. Let's celebrate it with a big time Margarita party!!!
Luis Neives who had hosted our Salsa party last year offered to host another great party. No sangria this time, it is all about margaritas now
The margarita has become an international phenomenon, and according to Gourmet magazine, it is the most popular cocktail in the United States. It is known in Russia too. Nobody truly knows when, or by whom, the first margarita was made. If we put it in the familiar language of EI members' database profiles we can say that margarita was born and raised in Mexico, and that the margarita's personality reflects the flavor of its native land. The age is not important (although we know that margarita was born in the 30s), the spirit is what counts!
All EI clients and Get to Know us members are welcome to experience the spirit of our Margarita Madness Party!
Directions:
I-95 Exit 38A, turn off onto Ramp0.5 mi
MD-32 East towards Fort Meade
Merge onto SR-32 (South/East) 0.9 mi
Turn off onto Ramp 0.7 mi
US-1 North & South / Laurel / Elkridge
Continue (North) on US-1 [Washington Blvd] 0.4 mi
Bear LEFT (North) onto SR-732 [Guilford Rd] 1.5 mi
Arrive 9583 Guilford Rd, Columbia, MD 2104
I am looking forward to seeing all of you at the party'. I am sure that you will not be disappointed to say the least!