New Year's Party Report and Slide Show
I believe that some of us could have written in the diary after the New Year's Eve social, rephrasing a famous Russian joke: "Saturday. I attended a Russian Vodka Party. I had so much vodka, that I almost died. Sunday. I wish I had died yesterday. Monday. Great party! One of the best I have been to this year! When is the next?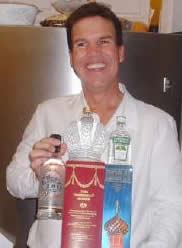 Luis, our wonderful host, all complements go to you. You have really mustered the art of entertainment! I hope that everybody agrees that Luis should be nominated a Social Director in EI.
December New Year's party coincided with exciting events in the lives of several members. And of course these members joined us this evening to share their happiness with all of us.
Charles McNeal was one of such "happy campers". He proudly introduced his fiancee Alla Nikiforova who has just arrived from Moscow. Alla was a little surprised at the spirit of the party and was thrilled to find out that we arrange parties like this every month. Alla, welcome to the club!
David L. is another "happy camper". He had returned from Moscow one day before the New Year's party just to find out that his fiancee petition has been approved and the date for the interview has been set. That means "green light" to full time preparation for the arrival of his beautiful fiancee Marina with the most charismatic smile never leaving her face.
Tomiken did not have to go to Russia to meet a Russian lady. He met her . .. not exactly in his back yard, but close enough compared to Moscow. Nadia lives in New York but travels to Washington every month.
Once again, it was a pleasure to enjoy time with all of you. We'll do it again Saturday, January 27 in Reston, VA. Virginia based clients, ladies and couples, heads up for you, because this is your rare chance to avoid long travel to and from our many parties in Maryland.