I met Marina when she came to the Moscow office of Encounters International (EI). It was during the winter, and that winter it was very, very cold! But one day, Marina came to the office with a friend, who was already a member. When Marina came in the room however, I noticed her from the start – her lovely smile, her happy chatter, and her pleasant personality. After the meeting, I knew I liked her. I, in fact carried her application home with me, and wrote her as soon as I could.
When I started to correspond with her, it seemed she was not as willing – but, as the saying the goes – "faint hearts never won anything." Finally, she said I hope I have answered all your questions, when are you coming to Moscow again?" But even then, when it came close to the time for my trip, Marina almost backed out because of the ominous obligation she felt to a gentleman she had only spent an hour with, but who was coming tosee her from half way around the world
.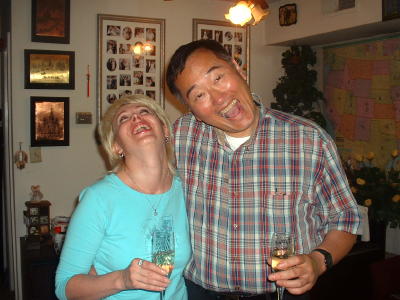 Natasha, if it was not for your direct call to Marina to calm her fears, and to personally explain how the EI process works for the ladies, while with a gentleman on a visit, it is clear that Marina and I would not be together now. We had a fun visit in Moscow, and we decided to move forward to submit the application for the K1 visa. And now, as I write, she is here with me!
Just like John and Anna, we are very happy and grateful to you for making our meeting possible, and to Tatiana and Ulyana in Moscow for helping in every way. I also can not forget to mention those who helped and supported me along the way: Svetlana and Tatiana in Yaroslavl, and Natasha in Kiev.
Sincerely
,David