Welcome to the Party!
Our Saturday Club socials are open for all members of Encounters International -- single American men and single women from the former Soviet Union, engaged and married couples - members of our Extended Family of clients.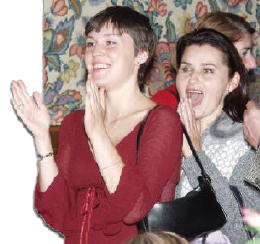 If you are not a member, but you are interested in attending one of our parties as a guest, we created a special Get to Know Us membership for you. By registering as a Get to Know Us member a prospective client will receive a seven day password to EI database and a personal invitation to the social.
I should say here that as our guest and a Get to Know Us member you are free to socialize, mix and mingle with all and any person at the party, but you need to keep in mind, that EI is a marriage service and all our ladies are interested in a long term commitment. Therefore we ask you not to commit to the relationship with a lady at the party (by exchanging phone numbers or asking a lady for a date) before you commit to EI membership. I believe it is only fair to the ladies, to other EI members and to me as a principal administrator of all these events.