Summertime
Russian Disco Party in the Paradise City
@ EI Headquarters in Washington, DC
Saturday, May 30, 2012 at 7:00 PM
4244 Blagden Ave. NW, Washington DC 20011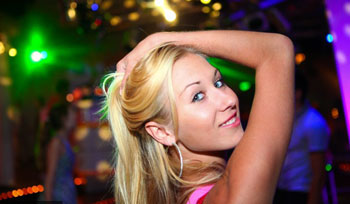 Join us for a relaxing summertime Social evening on Saturday, June 30, 2012. Listen to the Russian-American mix of music from the 80s and 90s, taste wine and cheese and dance under the stars in the flickering lights of the candles and disco lights. This party is designed with an idea of connecting soul mates through the activities that you like the most at any social gathering -- dancing and wine testing.
We are going to set disco equipment on the porch and turn our 'Paradise City Bistro' into a Russian Disco Club of the 80s. So, be ready for a treat!
All members and Get to Know Us Members are welcome!
The party is free, but please bring your wine (and cheese) to taste and share.
Attire is semi-formal (summer dresses for ladies and slacks and shirts for gentlemen)
Please, follow us on Facebook for more details on this social, if any.
I am looking forward to meeting you and greeting you and matching you at the party!
Memorial Day Swimming Pool Party
Slide show from May 26, 2012 Social
There is no better place for bringing together EI married couples with children and new members of our family of clients than a Swimming Pool party. Everybody has a good time, no matter what. Just another opportunity to meet club members face to face, another opportunity to find your soul mate, another opportunity to learn more about each other, our cultures and traditions.
As they say, there are only three things in life that can never be returned to you -- that is time, a spoken word and an opportunity. Our successful couples know that very well, because they owe their success to the opportunities, that they were determined to never miss. A great example is Steve and Elena W. Elena's life adventure started, when she joined EI in Kiev and contacted Steve. An old Kiev Post article dated 1997 has two pictures of Elena that had been taken in EI Kiev office at the time, when Steve and Elena just started corresponding. .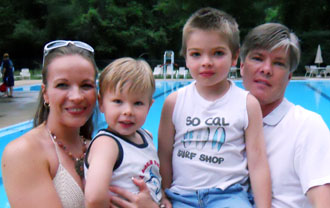 Now, more than 15 years later, while taking care of her family with two children in Gaithersburg, MD, Elena managed to break into the world of modeling and started successfully exploring the opportunities in the film industry. She is a great inspiration to many, who do not believe in opportunities and, therefore, keep missing them. Of course, together with her husband Steve, Elena is a great EI success story!