Everybody knows that February is a special month for celebration of Love all over the world on St. Valentine's Day. But not everybody knows that February in Russia is not associated with Love as much as it is associated with appreciation of MEN, their bravery, their masculinity, their heroism during WWII and all the rest of the wars and revolutions that Russian history is so rich with. Every little girl in Russia knows to bring a little gift for her school mate on February 23. Little boys proudly accept the greetings together with the rest of the male population in Russia. February 23 is marked in red in Russian calendars as the Day of Homeland's Defender. Ever since it was established in 1917 this holiday has changed its name several times in the course of Russian history. Our Russian grand fathers knew it as Red Army Day, our Russian fathers know it as Soviet Army Day, we know it as the the Day of Homeland's Defenders. And still, everybody in Russia knows February 23 as Men's Day.
Men's Day is the theme of Encounters International Saturday Club Social February 23., 2007.
PLEASE NOTE: February 23, 2007 is FRIDAY and not Saturday. For the first time in almost 10 years we decided to break a tradition of meeting exclusively last Saturday of every month. There is a good reason for that. In honor of celebrating Men's Day EI family of clients is joining Russian-American Club Arbat in Tragara Restaurant February 23 at 8 PM in Bethesda, MD.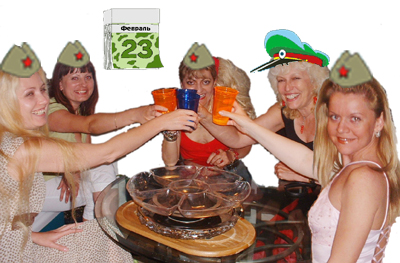 Russian joke for the occasion.. Russian single women's toast to Real Men:
"At 18 we say: "If I get married it will be for Love only", at 20 we change our minds: "I may get married without love, but there should be big respect", at 25 we state: "Marriage is a must!", at 30 we scream: "Marriage or Death". Therefore we can assume that there is no other word more pleasant for a single woman, than a word "bachelor". A bachelor is a hope for the heart and a joy for the eyes. So, let's raise our glasses to the bachelors, especially those who are members or soon-to-be members of Encounters International!!! (Translated from Russian and slightly adapted by Natasha Spivack)
This is not the first time that Encounters International meets Club Arbat to socialize together. In fact one year ago, in February 2006 Encounters and Arbat had a joint post-Valentine's Day party. Those of you who missed it last year here is your chance to enjoy it this time. Live music, dancing and live entertainment are in store for you at Men's Day Appreciation Party! Our new live band "Berezka", will entertain you all night with the popular Russian, European and American music. There are door prizes as well.
I know several Vietnam veterans and several ex-marines -- all most eligible bachelors -- who belong to our .Encounters community. Ladies, let's raise special toast to these men on this special day, the Day of our (new) Homeland's Defenders!
What: Live music and Dance Party
Where: Tragara Restaurant
4935 Cordell Avenue
Bethesda, MD 20814
When: Doors open at 8 PM
There is a small cover charge of $10 this time to attend this event. Also, there will be cash bar and exotic food bar for your enjoyment.
I am looking forward to see you all there.
Here is a slide show report on EI January Sea Food Party at Scott's in Herndon, VA. On behalf of all clients I want to thank Scott for being such a great host. This party was really special. In addition to regular socializing among singles this party became a meeting place for several generations of EI couples. It was really nice to see faces of the Russian ladies who I remember matching 12 or more years ago. The generation of EI children is growing fast. It seems that it won't be long before their parents' jokingly asked questions about the discounts for the daughters and sons to join EI will not be a joke at all. Indeed, time flies.