Post St.Valentine's Day Party in Baltimore.
Saturday, February 26, 2005 at 6 PM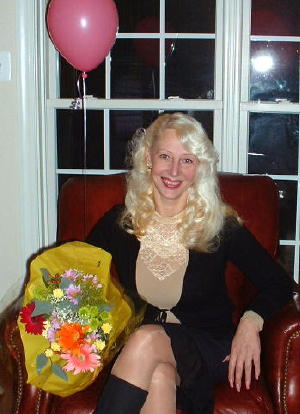 Olga Boldin is Hosting the Party

Our February Saturday Club Social is going to be held in the Baltimore area for the third time in a row! Sorry, Virginians, it was not planned to make you drive double distance, but when a lady offers to be a hostess for EI social, who can refuse the offer?
We know Olga Boldin for her spirited nature. There was hardly any major event in EI that Olga would miss. I am sure that her party will be "spirited" too. If you missed St Valentine's Day party dances, here is your chance: Olga is planning to play Russian and American dance music DVDs on a large screen TV.
This is the third time since we started our monthly socials that it will be held in the house of one of our single Russian ladies. Traditionally ladies in attendance outnumber men at these parties. I believe, it makes perfect sense -- women feel more comfortable visiting other women. EI gentlemen, take a note of it and try not to miss this party. I am sure that you will not be disappointed. Get to know us members are welcome.
Address:261 S. Ellwood Ave
Baltimore, MD 21224
Telephone: 410-563-4234
Directions: CAPITAL BELTWAY/I-495 E toward BALTIMORE/COLLEGE PARK.
Merge onto I-95 N via EXIT 27 toward BALTIMORE/NEW YORK.
Merge onto I-395 N via EXIT 53 toward DOWNTOWN.
Take the CONWAY ST exit.
Stay STRAIGHT to go onto W CONWAY ST.
Turn LEFT onto MD-2 N/LIGHT ST.
Stay STRAIGHT to go onto E PRATT ST.
Turn RIGHT onto S PRESIDENT ST.
Turn LEFT onto EASTERN AVE.
Turn LEFT onto S ELLWOOD AVE.