This section of the Encounters International Handbook provides real world examples of the information contained in the previous sections. The clients you will see and read about below are not my typical clients. Obviously, not all Encounters International clients can be the youngest, oldest, or have the shortest engagement period. I selected them to show the true diversity of clients, personalities, ages, and situations.
I have been careful not to label these as success stories, although they really are. We have sections on the web site to announce recent engagements and recent weddings.
In most cases, these are the extremes. Presented because an example quite often is best answer to a question or concern! These are some of the most frequently asked questions that I am asked. As an active client or prospective client, you can use these examples to track your own experiences and progress. I have also included quotes from the clients and some personal notes about them.
Do Russian women get married just to come to America
and then they find somebody else and leave?
Olga, Alina, & Tom Howlin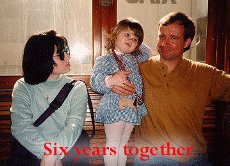 "All my expectations were met. I am very happy. Our daughter Alina is an extremely beautiful and smart girl. She likes to dance and wants to be a ballerina. She's the best evidence of the results of your service."

Olga Howlin

Tom Howlin first telephoned Encounters International in September 1993, the year we began. I remember the conversation with Tom very well. It went like this...
Tom: "How many engaged couples do you have at the agency?"
Natasha: "None."
Tom: "Well, how many clients do you have now?"
Natasha: "Two now, three if you join!"
Tom: "I see, what are your business hours?"
Natasha: "All day on Saturdays and Sundays and every weekday evening after my regular [paying] job."

Tom must have thought we were complete idiots, total amateurs, or both! Perhaps, in the very beginning we were. However, we began and continue with complete honesty and openness. Tom was one of the first brave risk takers who decided to join Encounters International in the early days. Tom had spent a lot of money in the fruitless dating scene. But, he knew there was always hope. This time, his hope came from a distant land, Russia!
In December 1993, Tom traveled to Moscow. He was overwhelmed with everything that happened to him on his trip. He later wrote me: "Any single guy with the desire and financial resources to get married who doesn't use your service is nuts!"
Tom and Olga celebrated their 5th wedding anniversary in March 1999. Their daughter, Alina, was the first baby born in the Encounters International big family of clients. Thank you Tom for becoming a member in those very early days!
What is the typical age difference that
Russian women would accept?
Oliver & Irena Beale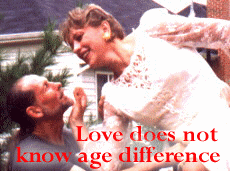 "All I can say is that I am glad that Irena found me. And I am very happy."


Oliver Beale

"I always wanted to meet the man of my dreams—an artist. I am an artist and always wanted to share my life with a man in the same profession. When I came to the Encounters International office in Moscow and saw his shining eyes reflecting the depth of his soul, I decided to write a letter to him. We have a large age difference which I do not feel! Seeing his smile is the greatest happiness for me."


Irena Beale
Oliver Beale was 59 years old when he received an 'unsolicited' letter from 29 year old Irena Shumilova of Moscow. Of course, he was flattered at the experience of a younger woman initiating correspondence with him. Irena saw Oliver's photos and profile in one of the Encounters International male client photo albums. He wanted to meet a younger woman. However, Oliver had also hoped to find a woman willing to support a free lance artist. That was his second criteria for a Russian woman.
Irena did not fail to exceed his expectations in this respect either. The first week after her arrival in Maryland, on a fiancée Visa, she earned $90. She was very proud to pay her share of the couple's expenses. Oliver and Irena are the Encounters International couple with the largest age difference-30 years.
The important thing to notice here is the expectations of each person. Oliver was seeking a younger woman, willing to support a free lance artist. Irena wanted to find a fellow artist who was patient and would be a best friend. Their expectations were very different. Yet, Oliver met Irena's expectations and Irena met Oliver's expectations. In that way, they are a perfect match! What more could anyone ask for?
Yes, their age difference has created some unique problems for the couple. But, since they know they are exactly what each other was seeking, they are very well equipped to work through the issues together. Instead of focusing on the age 'difference,' they remained focused on the expectation 'similarities!' The positive aspects far outweighed any possible negative ones. Oliver and Irena are the Encounters International couple with the largest age difference-30 years. They should be a lesson to everyone concerned about age.
Do Russian women tend to be more traditional
and more family oriented?
Larisa Amos & Family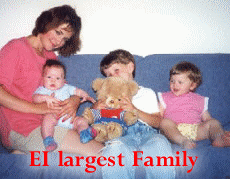 "If you are looking for special lady to share your life with, Encounters International is very much worth a try. Be careful, you will probably find her!"

Craig Amos



Craig Amos was approaching 30 years old when he completed the online member profile form in April 1996. He had never been married and described himself like this; "I am a shy yet complicated man who enjoys many different things and would like to have children in the next few years." Craig's response to another question on the form surprised even me. The question, "I would like to meet..."
His response, "Larisa Melsitova!" "She is beautiful and seems like a very intelligent and caring person." "Being cute in appearance is very important to me."
Unlike most clients, Craig did not follow my advice for beginners; choose 10 women to begin corresponding with. He decided to initiate correspondence exclusively with Larisa. A few months later, he was off to Moscow to meet her face-to-face and confirm the chemistry. It was a good match so Craig and Larisa became engaged. The couple married in September 1996-five months after joining Encounters International.
Craig wished to meet Larisa. He met and married her. He also wished for children and that is where this story continues. Craig adopted Larisa's two-year old son. The couple has two more children of their own; Kristina and Nicolay.

As you can see in the photo on the left, just because a couple desires to have several children does not mean they are not romantic. Technically, just the opposite true! This photo was taken of Craig proposing to Larisa at the very public 'Red Square' in Moscow. I believe any woman, whether she has children, wants children, or is undecided would love to be photographed in this same romantic situation.
I really wish that I could see the Amos family more often at our Saturday Club events. But, my wishes are not as important as Craig's wishes! Then again, with three small children running around my home and office, I should be careful what I wish for. Like Craig, it may come true.

Will I meet other women when
I go to Russia or Ukraine?
Elena & Norman May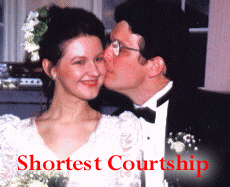 "My number one choice turned bad and I am glad now because it helped me to meet my true love."

Norman May



Norman May met his wife three days before the end of his trip to Kiev. The couple spent three hours together that first day. The next day they spent the entire day together. Unfortunately, there was not much time on day three because Norman had to leave Kiev for home. Elena came to the airport to say "Good bye" to him. But, it would not be forever! She said "yes" when Norman proposed to her in a letter a few days later.
Norman and Elena May celebrated their marriage in front of a large crowd of family, friends, and well wishers during the Encounters International Open House '98. They are the couple who have the shortest courtship period.
I am very picky, what if it takes me longer
than one year to find the right woman?
Alina & Malcolm Brenner
"I went to Moscow without great expectations. It would be nice to meet her I thought, but who knows...it would be nice tourism. I got off the airplane and saw her. I was very pleased. I thought, 'My God, I could marry this woman!' And then several years later that actually happens!"

Malcolm Brenner

Malcolm Brenner, PhD was a 49 year old bachelor when he joined Encounters International in 1994. He traveled to Moscow to meet Alina Veselova, a 27 year old PhD candidate and medical researcher. They got engaged. Being bright and analytical by nature, both of them tried to 'dissect' not only their relationship, but also their future life together within the letters that they exchanged. Unfortunately, they became 'dis-engaged' as a result.
After his initial disappointment, Malcolm decided to try again. He began contacting other Encounters International women a year later. He was ready for a second trip to meet another Moscow woman. When Malcom met her, he realized that his feelings to Alina never changed; but were deeper than he expected. So he couldn't resist calling her while he was in Moscow. They met once again. The initial attraction to each other took over.
Malcolm returned to Washington and announced that he was engaged; or rather 're-engaged' to the same woman he met over a year prior. Alina came to Malcolm on a fiancée visa. However, her parents, back in Russia, got seriously sick. She had to return to Moscow. After the crisis was over there were only a few days left before the expiration of Alina's 3-month fiancée visa. Malcolm did the impossible; he arranged fiancée re-entry permission for Alina. She came to Dulles airport in Washington the same day when her visa would expire. They had just a few hours to get married in order to avoid the problems of expired visa status.
And indeed they did it. Over all, it took almost three years for this marriage to take place. But it was worth it for everyone!

Is it really possible to fall in love with someone you hardly
know, who lives so far away?
Tatiana Scherbinina & Mark Sinisgalli

"I am more than happy with my experience. I have found Tatiana, the love of my life. Tatiana is far beyond any dream. She is a God send to me!"

Mark Sinisgalli



Mark Sinisgalli "let his fingers do the walking" through the local Yellow Pages when he found Encounters International. He called me for information about the agency. He had never considered dating Russian women, mush less a Russian wife before.
He asked the usual questions of a person, including what to expect when dating Russian women? The simple answer I gave him was, "In general, they are more appreciative." Simply put, that means that Russian women do not take for granted the little things men do for them or the attention they receive. Russian women notice and appreciate even the smallest things that men do for them and are glad to show their appreciation in return. Everyone knows that making a woman happy also makes the man happy; unhappy women make men miserable.
Tatiana Scherbinina initiated contact with Mark after he became a client of Encounters International. After viewing her video tape interview, he enthusiastically responded to her initial letter. His Valentine's Day bouquet of roses to Tatiana was the largest that any of my clients sent to Moscow.
Tatiana was so impressed and so much in love, that she became the first Russian woman to contact me to send something to Mark. For us, the amount of money it cost was very small. But, for Tatiana, the money to send Mark some 'I Love You' balloons represented a month's salary in Russia! Can you imagine any woman willing to sacrifice this much just to express a thank you and her love for her man? It was very touching on me, as well as my staff.
Needless to say this effort and great sacrifice had quite a positive impact on Mark also. So much so that, he telephoned my office the same day the balloons arrived with only one excited question, "How soon can you arrange a Russian Visa for me?" Mark continued, "I have already talked to my boss and changed my vacation schedule." He said that Tatiana was not able to change her work vacation schedule to match his, on such short notice. "I just want to see her!" "I don't care of she still has to work all day, I have plenty of books to read," Mark said.
Mark traveled back to Russia. He and Tatiana were inseparable for almost two weeks. When he returned to the USA, his first stop after leaving Washington Dulles International Airport was my office. Still groggy from jet lag and the time change, he insisted that I check over his fiancée visa paperwork for Tatiana. That same evening we received a letter from Moscow. It was a welcome home note for Mark that he allowed me to share with you; "My Love! My Mark! You are my life! All that is interesting for me is YOU!!! I am looking forward to our life together. Forever and Only Yours, Tatiana"
I would say these are the words and certainly the actions of two people very much in love. The separation while the visa is being processed will probably seem like an eternity for them. However, I know their love for each other will only grow stronger as time passes. I look forward to seeing them as a married couple at an upcoming Saturday Club!
Am I too old to look for
a Russian bride?
Euginia & Harold Isaacs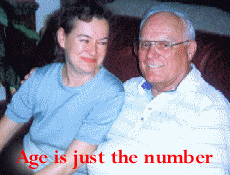 "I am 56 years old and I could never dream that at this age I would be able to meet such a sensitive, intelligent and understanding person. I could never dream that I would start a new life in a new country."

Euginia Skvortsova Isaacs


Euginia called to make an appointment to visit me in the Bethesda, MD office. One of my first routine questions on the telephone to any caller is, "How old are you?" Her response was, "I am afraid to tell you my age." "Maybe I am too old for your service." "May I just come to talk to you?" Reluctantly, I agreed to meet with her. I was thinking that although I do have two clients in the 70s, both gentlemen are very picky.
All her life Euginia worked as an interpreter of English. This was not her first time in the USA. I showed her the photos of both Encounters International clients. Harold Isaacs, age 76, had a photo and profile which interested her. Originally, from England, Harold has an active and artistic lifestyle in Virginia. He used to sing in a Russian Orthodox church choir! I gave Euginia his phone number and wished her good luck.
When I heard Harold's excited voice on the telephone early the next morning, I knew the reason for his call. We talked about Euginia for quite some time. I saw them together at our Saturday Club at the end of the month and congratulated them on their engagement. They were married November 10, 1999. Harold recently reported to me that their relationship is growing with "great success!" The phrase "Age is just the number" has a very special meaning for me when I look at their picture!
Do Russian women prefer
only Caucasian men?
Svetlana & Frank Hardy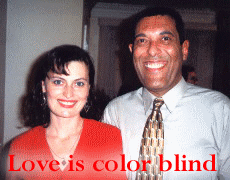 "Now I am not going to say that I did not get rejected, for I did. But I do believe that race may not have been the issue. It could have been age, my kids, etc. However, I must say that all along Svetlana was my first choice! I did have a few 'unsolicited' women contact me and that felt good but I was concentrating on Svetlana and told them so."

"Some women actually ask for men of color. One lady that I wanted to write, was taken (and is now married) by a man in less than 30 days. She asked solely for men of color, so we had one up! Most will say something like, "race irrelevant" or "prefer darker complected man" or in the description of men; mention nothing about race. Something like that!"


Frank Hardy
Frank Hardy called with just one question, "Are there any women interested in African-American men?" I explained to Frank that one woman had openly expressed an interest, but was already exclusively corresponding with another African-American client. After a brief conversation, he thanked me and hung up. I thought that was the last time I would hear from him.
A few days later, Frank joined Encounters International. He told me that he was impressed that I was so honest with him about the woman's status of exclusive correspondence. He figured someone who simply wanted his money would have tried much harder to sell him on the agency or tell him what he 'wanted' to hear.
Frank is one of those guys that you hope always does well. His positive attitude and friendly smile just make you want to wish him good luck! Frank's attitude really impressed us, but it was also impressive to his first choice, Svetlana. He contacted her shortly after he became a member of Encounters International. About 9 months later, Svetlana was his wife.
I don't want to give you the impression that all Frank did was join Encounters International, make a choice, take a trip, and then marry. On the contray, he worked very hard during his time as a client. Perhaps harder than most clients ever have to for success. I think Frank himself would agree that it was much harder than his 'regular' job as a senior pilot. Like aviation, Frank's time as my client had its 'ups' and 'downs;' some rather unexpected. But, that is a subject for his book.

Now the Hardy's are a growing, inter-cultural, inter-racial family here in the Pennsylvania. Proud 'papa' Frank sent me this picture of little Nicolay Hardy. I am sure he will be a future client and pilot, like his dad. After all, at less than one year old, Nicolay made the 4,752-mile trip from Pennsylvania to Kiev to visit his proud grandparents!
Race is a difficult subject for some people to address. It needs to be discussed without offending anyone. To that end, I believe that Russian and Ukrainian women view a man's race similar to his age, height, weight, or any other physical characteristic. None of them are as important as what is on the inside. In other words, the color of a man's skin is far less important than the content of his heart. I think that most Russian women would agree with me when I say, "Color only matters when it's in a box of crayons."

Do Russian women become 'Americanized'
after being in America for awhile?
Victoria, Natasha, & Shawn Dunlap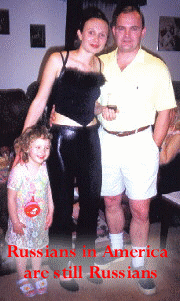 "I don't know if I want to be in a picture next to my wife dressed like this!"

Shawn Dunlap






Natasha was a model in Russia. Her photograph promoting Russian "M Radio" turned the heads of many male clients. One head it turned was Shawn Dunlap's. He immediately sent his introductory letter to Natasha from my office in Bethesda.
Interestingly, Shawn's photo caught her attention at about the same time! Natasha sent him an 'unsolicited' letter that crossed en route.
What a great sign for a new beginning. To me, it seemed like Shawn and Natasha fell in love after the second letter was exchanged. I knew it was a promising relationship, bound for success.
A few months later Shawn was on his way to Russia to meet Natasha. The two spent Christmas together and saw in the New Year 1996. Winter in Russia? I knew he was determined and sincere. Shawn was one of the few clients who did not complain about cold Russian winter when he returned to the relatively 'mild' Virginia weather.
Shawn and Natasha were married as soon as she arrived on a fiancée visa. Their beautiful daughter was born in 1997. Natasha changed her profession in America from a photo model to a computer programmer.
I guess that is where Natasha's 'Americanization' stops. After more than 4 years of being a loving, caring wife and mother she still has a strong Russian desire to look and feel her best. You may have already noticed the 'baby weight' is gone. Even the semi-casual atmosphere of a Saturday Club can't diminish the need to feel good about herself and her appearance. Love it or leave it; for better or for worse, do not try to 'Americanize' a Russian woman.
Do I have to go to Russia to
meet Russian women?
Anna & Greg Mitchell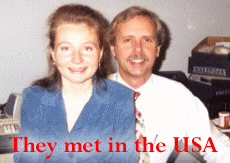 "Anna and I are very happy! I am glad I listened to your advice about who would be a good match for me. She is a sweet person, very intelligent, and affectionate. She is the most interesting person I ever met. It is so easy to fall in love with Anna, and I am a lucky guy! Already I appreciate how nice it is to have a regular wife again. Now I not only have a wife, I have someone who is actually there for me, and I am there for her in any way that I can be. Life is so much better when you have someone who cares, does things with you, and even does things for you."


Greg Mitchell

"I am so lucky!!! I love everything in my life-I love Greg, I love the place where we live, I love his children and I even love his ex-wife."


Anna Mitchell
Greg Mitchell's first contact with Encounters International was through the E I C X (Encounters International Client eXchange) in November, 1998. He described himself as potentially tough customer. I read his post and then smiled. I thought to myself, "If he believes that custody of two children and residency in Kentucky makes him a tough customer then he has no idea what tough customers really are!" In this business, it's not so much about what you have or don't have, or where you live or don't live; it's about how you think and how you act.
One month later Greg decided to make a special trip to visit Encounters International in Bethesda. With amazing determination he wrote me: "I still plan on visiting your offices next week, on December 28-30." "I am driving over there, so the only thing that can interfere with my plans would be a blizzard!" "I will bring all the membership materials with me."
The entire time I was thinking to myself, any man who would attempt to make a nearly 500-mile trip in the middle of winter was either truly dedicated to success, or crazy, or perhaps a little of both. Only time would show the former to be the case for Greg! He was dedicated and it paid off for him.
Well, Greg made it to Bethesda. After the initial "questions and answers" session was over, he decided to join Encounters International. Greg immediately immersed himself into watching the video interviews. While he was in the office, I received a telephone call from Anna Eremenko, a 29 year old medical doctor with a little daughter.
She came to California with hopes to get happily married; but things did not work out for her. Anna sounded very sincere and impressed me as a real sweetheart. I was deciding whether or not to accept her into Encounters International. One thing bothered me a little about the photos she had already mailed to me. They were not professional quality photos. I was afraid that she would not be able to "compete" with images of many other women who were coached by professional photographers.
I know that it is what is on the inside that matters most. So I asked Greg if he wanted to speak with Anna. He was a little shocked by the immediate introduction! But, that is how things work around here. Greg also spoke to another woman, Valentina from Colorado. Both women spoke good English. Both impressed Greg as sincere, bright, and interesting. Both women wanted him to call again after he returned home to Kentucky.
As expected, Greg was overwhelmed by all this happening at once. Like most of my clients, he looked to me for advice and council. Of course, operating a personalized service matchmaking agency, this is part of my job and the reason you join Encounters International.
In January 1999, I announced the date for the annual Encounters International Open House. I also named four male clients that were visiting Moscow and Kiev, as potential candidates for 200th engaged couple celebration. Greg was a member for less than one month at that time.
Quite honestly, I did not think of Greg and Anna as the potential 200th couple. Yet they really surprised me when they called with the news of getting married February 3, 1999. Greg and Anna Mitchell became Encounters International's engaged 200th couple.
Since all this took place in the USA, Greg missed his opportunity to travel to Russia or Ukraine as a single man. However, due to his success 'locally' I am certain he has no regrets! Greg, Anna, and their children are looking forward to a family visit to Russia instead.
The words from Anna and Greg always make me smile. New clients tell me they are a little envious of Greg's situation and would be eager to take his place. So much for the image of oneself as a "tough customer."